If you take a glance at your building and will not feel an excitement anymore, it is time to have new coat paint. A new coat of paint is the best way to brighten your property or home. It is also the best way to add a little color, drama, or just freshen up a room.  What color should make your day pleasurable?  Here are some fascinating color guides that could make up your exteriors.
If you are a simple person who believes that "simplicity is beauty", then choose pastels –  light pink – with a white background, orange and gray, brown and black, or ecru and white, to name a few.  More into a classic feel are shades of gray and white combination.
If you are an exciting person who  loves vibrant colors, you will be enjoy shades with light pink, magenta, yellow, orange, even brick red combined with any of the colors black, gray or white?
If you are the passionate type who prefers intense colors – royal blue, botanical green, chocolate  brown, blue-green, pink or even red are the colors that matches your personality.
When choosing colors, you just can't paint a whole wall and realize that it isn't exactly the shade that you are going for.  With SPPI (SPPI), visualizing new colors for your paint is so possible.  Nowadays, there are various tools available for testing colors and color combinations, taking pictures of various colors, combining and choosing the best that harmonizes with your taste.  Our color visualization tool makes it easier both for us professionals and for you customers to create a vivid picture of the wall color before we actually start painting. Do it right with professional painters and you will be assured that everything is done with care and exactly how you envisioned it to be.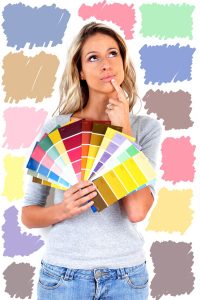 In the previous years, the color of choice was normally white, but this year, the color trend has changed. No longer are we stuck under the bland white flag, now we are using colors such as the one on the picture on the right.
For your next interior or exterior painting project choose Southern Perfection Painting, the quintessential color scheme designer choice.
Click on the links below for a free estimate on your next painting project.
The SPPI has much to offer for every customer who are on look-out for finest exterior painting and customized painting colors. We work from wood, metal, drywall to other surfaces.  And, we take pride of the personalized care on paint and paint services that we can give to our customers.