The Kind of Paint Exterior Painters Prefer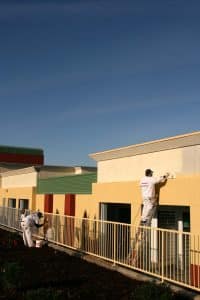 Commercial painting the exterior walls can be finished or repaired by using elastomeric acrylic wall coating. The latter is ideally recommended by local painting contractors on commercial structures. Commercial painters, on the other hand, are amenable on this idea since the exterior surfaces of most buildings are made of concrete or other masonry materials.
The cost of commercial painting services using elastomeric acrylic wall coating is almost the same as when exterior painters use regular commercial paints. It makes a difference when the cost of this particular paint is included. Apparently, there are a couple of features that make this kind of paint a standout to exterior surfaces of commercial buildings – as follows:
Hydrophobic characteristic: This feature of elastomeric acrylic wall coating excludes water molecules and this is appropriate in applying to any cracks in the wall
Waterproofing capability: This enables the painted surfaces to last long in all kinds of weather
Undoubtedly, using elastomeric acrylic wall coating is a great idea to business owners. They can then pursue with their plan to obtain painting services for the improvement of their commercial property. If they are in the vicinity of Atlanta, they can visit Southern Perfection Painting Inc. They can further discuss their plan with the commercial painters of SPPI. These commercial and residential home painters are fully trained with the dos and don'ts of any painting job. The expertise of these interior and exterior painters is demonstrated as they share their experiences and talk over the kinds of paints they applied on the various projects they have accomplished.
Furthermore, Southern Perfection Painting Inc. is one of the few local painting contractors that maintain perfection in all their services in spite of the affordable painting estimates they offer. This is what SPPI is known for – the guarantee of quality in workmanship for all residential and commercial painting jobs they undertake.