Paints Do Not Just Vary On Colors.
Commercial painting supplies are essential to the quality of work. The competence of local painting contractors is demonstrated on what they recommend. Their familiarity on various commercial painting supplies is a hint. Among these are the eco-friendly kinds of paints. This gives a picture of the outcome on the painting services they provide.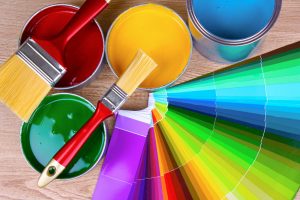 Paints do not just vary on colors. The kinds of paints are categorized. This is based on where these will be applied. This takes technical know-how and experience, of course, from the experts of commercial painting supplies. This is the leading edge of skilled commercial painters.
Here is a glimpse on 1 of the major commercial painting supplies – the eco-friendly kinds of paints:
Alkyd Paints are the by-product of synthetic materials combined with linseed, soya and Tung oils. These dry quickly and give gloss to the surface walls.
Catalyzed Epoxy Coats are applied on floors. The coats are the mixture of epoxy base and hardener that enable the floor to withstand heavy traffic of people.
Epoxy Ester Coats dry through oxidation. These oil-based coats are resistant to chemicals.
Latex Paints feature alkali resistance. These paints give a long-lasting luster to the wall and are thinned in water before application.
Polyurethane Finish provides extreme hardness on wall surfaces making these surfaces heavy duty. This finish is the result of mixing alkyds, dry oils and urethane.
There are more. You can learn more about commercial painting supplies. If you are in the vicinity of metro Atlanta GA, you can visit SPPI The commercial painters of SPPI can further discuss with you the eco-friendly kinds of paints and any job related to their services. These painters are fully trained with the dos and don'ts of any painting job – and a lot more.
SPPI is one of the few local painting contractors that maintain excellence in all their services. SPPI even offers reasonable painting estimates. You are also assured of superior painting services for the protection of your commercial property and your satisfaction. This is the guarantee that SPPI is confident about – the quality in workmanship. This is exhibited in all residential and commercial painting supplies they use.