Not All Paints Applied To Walls Can Be Cleaned Easily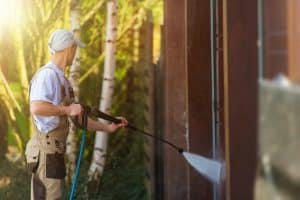 Do you know that commercial painting services include maintaining the exterior and interior painted walls clean? This is one of the "after sales services" that local painting contractors offer to business owners. This is less expensive than re-painting. This also keeps the paint applied to the walls lasting.
How do commercial painters clean the walls? Not all paints applied to walls can be cleaned easily. Most of the cleaning methods have to be properly thought of where these are to be done. Exterior and interior painters are well-informed on these commercial painting services. They have full knowledge on the appropriate ways of cleaning the paint on these walls.
The following are essentials that need to be considered:
Using a scrub to clean the paint on the walls is not recommended
Soft sponge soaked with a mild detergent cleaner works on oil-based and latex enamel finishes
Flat or matte finishes have to be cleaned in a very gentle manner
The walls have to be dried up immediately, i.e., these should only be wet in a few seconds
Water can also stain the walls if it dries by itself
Do you want to learn more about maintaining painted walls clean? If you are in the vicinity of Atlanta, you can plan a stopover to visit Southern Perfection Painting Inc. You can further discuss with the commercial painters of SPPI any job related to their services. These exterior and interior painters are fully equipped and trained. They are knowledgeable with the dos and don'ts of any painting job – complete with the specifics.
Moreover, Southern Perfection Painting Inc. is considered among one of the recognized local painting contractors in Atlanta GA. SPPI continues to maintain excellence in all their jobs. These come along with the reasonable and detailed painting estimates that they offer – without any qualms. You are then assured of your satisfaction on the outcome and the protection of your commercial property. This is the guarantee that SPPI is confident about – the quality in workmanship for all residential as well as exterior commercial painting services they undertake.