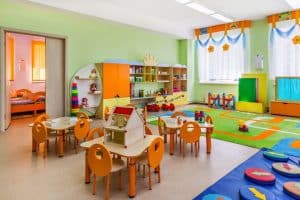 Colors Fitting in Learning Venues
The choice of commercial painting colors is very important in the learning environment. Specific colors applied by interior painters are based on the age bracket of children who will use the room. The kind of painting services for these venues of learning seems so basic, yet local painting contractors are aware how the job process is filled with details.
These contractors, together with their commercial painters, use the necessary means in completing every painting service assigned to them the way it should be done. They carefully select and appropriately mix commercial painting colors. The result of this mix and match of colors painted on interior wall surfaces should provide interesting room spaces that have an impact on the eyes of the children.
Here are a number of observations disclosed in recent studies on the effect of colors to children:
Bright colors in Blue or Green can help develop the critical thinking of 4 to 6 year olds
Pastel colors are recommended for children in 1st to 3rd grades
Cool and bright colors are good for 10 to 14 years olds
Dark and subdued colors make the best choices for 15 to 19 year olds
Light shade of Blue is often related to safety
Aqua and Fuchsia are a couple of combinations of cool and bright colors that enable the children to stay focused on what they are doing
Cool colors kindle the creativity of the child, while cool colors tend to pacify
Gray, Green and Violet can be classified as dark and subdued colors which release stress
What is more? If you are interested to learn more about different colors suitable to a particular age group while in the vicinity of Atlanta, what about planning a stopover to visit Southern Perfection Painting Inc? You can further discuss with the commercial painters of SPPI any job related to their services. These exterior and interior painters are fully trained with the dos and don'ts of any painting job – and a lot more.
Southern Perfection Painting Inc is one of the few local painting contractors that maintain excellence in all their services even with the reasonable painting estimates that they offer. You are assured of superior painting services for the protection of your commercial property, and to your satisfaction. This is the guarantee that SPPI is confident about – the quality in workmanship for all residential and commercial painting jobs they undertake.