These Commercial Painting Products Are Low In Maintenance.
Commercial painting products are continuously developed and produced. These are low-VOC and eco-friendly paints that are mandated by the government. Gone are the days when common or ordinary paints were preferred by business owners mainly for economical reasons – so it seemed.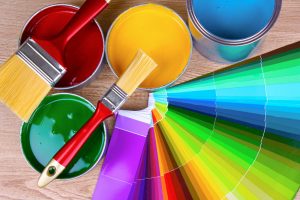 Low-VOC and eco-friendly (or "green") paints are priced higher compared to common paints. These commercial painting products are low in maintenance. These are also safe to humans, animals, and of course, the environment. Businessmen, consumers and local painting contractors are aware that low-VOC paints are readily available, along with the "green" paints, as the only options. The painting services contractors provide include exterior and interior painters who are well-versed in distinguishing the authenticity of these paints – the basic essentials of which are as follows:
The volatile organic compounds (VOCs) of "green" paints are lower (or even nil)
Low-VOC paints are toxic-free
Low-VOC latex paints consist of only 250 grams per liter (or lesser) of VOC content
Low-VOC oil-based paints have at most 380 grams per liter of VOC content
Eco-friendly paints have no VOC content or only 100 grams per liter at the maximum
Natural (or casein) paints are the result of combining milk proteins, citrus, lime, minerals, and other non-toxic elements
"Green" paints with the green seal certify that these have zero VOC, or simply, VOC-free
If you are in the vicinity of Atlanta GA, you can plan a stopover to visit Southern Perfection Painting Inc. SPPI is recognized with distinction among local painting contractors in their areas of jurisdiction. This is the greater Atlanta area. Many business owners choose SPPI for the reasonable and detailed estimates on the services that they offer without any qualms.
You can further discuss with Southern Perfection Painting Inc. the colors that can create an impressive appeal to your business establishment. The friendly SPPI team of commercial painters will be glad and enthusiastic to discuss to you any job related to their painting services. These exterior and interior painters are fully equipped and trained. They are knowledgeable with the dos and don'ts of any painting job – complete with the details. You, as valuable clients, are assured of satisfaction on the outcome and protection of your commercial property.
Moreover, Southern Perfection Painting Inc. uses eco-friendly paints favorable to business owners. This is a major factor why the SPPI team maintains excellence in all their jobs. You have this guarantee – and SPPI is very confident about this. SPPI always goes for quality in workmanship. Indeed, Southern Perfection Painting Inc. patronizes residential painting as well as commercial painting products that bring about a remarkable upshot to your property.