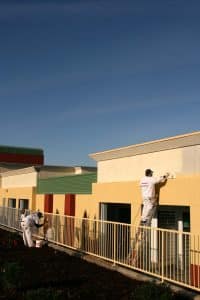 What Matters Most
Exterior commercial painting is undeniably temperature-based. As the weather gets warmer, commercial painters cheer because it is taking its favor on them. In fact, the onset of summer season highlights their expertise – in spite of the difficulties in painting during summer.
This is the ideal time of year when professional painters showcase their capabilities on beating the summer heat. These exterior painters see to it that their work output shows the best they can. The outcome of their painting job also reveals what matter most to them.
Here are a number of commercial painting considerations these painters take note of:
Professional prelude to painting: Power washing or proper scrubbing using a wire brush
Covering the landscapes: Protecting the plants from getting paint drops or messing through the newly-painted walls
Timing: Paints manifest heat blisters and dry as fast as these are applied
In addition, painting estimates are usually higher during summer and the painters are fully booked. There can be complications in setting schedules so local painting contractors encourage business owners to schedule an exterior painting during summer ahead of time.
Are you considering a summer exterior painting job to your commercial property?  Take a time out for a discussion with the expert exterior painters of Southern Perfection Painting Inc. The broad painting experiences of these painters are demonstrated on the way they give details about paints and how they paint. You will even be amazed to find them knowledgeable as they are accommodating. This is the SPPI approach – your reliable partner for your painting needs.
With a pool of residential and commercial painters, Southern Perfection Painting Inc. is among the few local painting contractors offering affordable painting estimates – even during summer – yet maintaining perfection in all their painting jobs. This is what SPPI is known for – their guarantee of quality work you can expect from their commercial painting jobs.