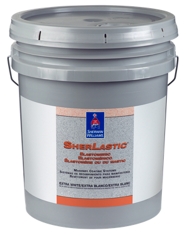 Commercial Painting: Elastomeric Coatings Exterior Painters Prefer
Property owners are keen on commercial painting their building. Their primary concern is to protect the exterior of their building. Local painting contractors likewise consider all possible painting services for the exterior surfaces to resist damage.
Furthermore, statistics disclose that 93% of water damage in buildings can be prevented. How then can the exterior walls last long despite any weather disturbance? Here are a few strategic details:
Commercial painting in buildings maintains certain wall thickness of 1/8 inch
Professional exterior painters are aware how such thickness is set
The said thickness is not only for painting but on waterproofing applications as well
Elastomeric coatings are preferred by commercial painters
These coatings completely waterproof the exterior surfaces of any building
From the above mentioned, Sherwin-Williams SherLastic Elastomeric Coating is highly recommended for masonry and concrete walls. Considered as one of the pioneers in the painting industry, Sherwin-Williams have their own line of waterproof commercial products. This will give business owners various options on what should be suitably applied on the exterior surface of their property.
What is more? If they are in the vicinity of Atlanta, they can visit Southern Perfection Painting Inc. The business owners can further discuss any painting job with the commercial painters of SPPI. These interior and exterior painters are fully trained with the dos and don'ts of any painting job as well as the appropriate kinds of waterproofing products to use and apply to a particular project.
Southern Perfection Painting Inc is one of the few local painting contractors that maintain perfection in all their services in spite of the affordable painting estimates they offer. Business owners are assured of superior commercial painting services for the protection of their commercial property. This is what SPPI is known for – the guarantee of quality in workmanship for all residential and commercial painting jobs they undertake.