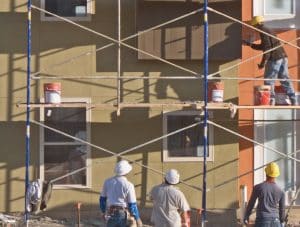 Painting Jobs More than Well Done
Commercial painting contractors have the best intention for every painting job for their clients. Painting estimates do not speak what commercial painters can do. Well done painting jobs are often the result of how efficient and effective contractors manage their business and painters.
Who among the commercial painting contractors are likely to provide painting jobs that are according to the expectations of their clients – a job more than well done? Here are valuable guidelines in deciding who among the local painting contractors deserves the project:
Do they have insurances mandated by the government such as general liability and workers' compensation? These insurances cover the contractor, workers and property in relation to the painting job.
Do they show interest on the needs of the client? This is manifested if they are able to present the best options regardless of the budget.
Is their team of painters trained on safety procedures by OSHA (Occupational Safety and Health Administration) and EPA (Environmental Protection Agency)? This is an indication how professional the contractors are.
Have they implemented background checking and drug screening of their interior and exterior painters? These give the clients the assurance that they have no run-ins against the law in their vicinity.
Does the written quotation contain all the details on how the project will be accomplished? This should indicate how the preparation and clean-up are done; the materials needed and paint products to be used, as well as the expected deadlines.
With the above mentioned guidelines, you can discuss these with the expert interior and exterior painters of Southern Perfection Painting Inc. SPPI sees to it that their residential and commercial painters are updated with the latest trend in the painting industry. The broad painting experiences of these painters are demonstrated on the way they give details about the painting job.
In addition, Southern Perfection Painting Inc. is among the few local painting contractors offering affordable painting estimates – yet maintaining perfection in all their painting jobs. This is what SPPI is known for – their guarantee of quality work from their residential and commercial painting jobs.