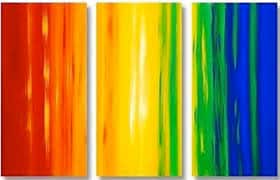 Colors Interior
Interior painters in commercial painting are aware that wall colors have an effect on the way employees perform in the workplace. A number of local painting contractors know, one way or another, how an office can have pleasing ambiance. Their painting services include recommending or suggesting the appropriate paint color that is best for the interior wall surface of the building.
Business owners would likely approve the interior commercial painting that would create a distinctive and positive work atmosphere for their employees. Of course, this is aligned on the manner they expect the work output is. Consider the following paint colors:
Blue
Relates to the serenity of ocean waters which "out of the box" or creative thinkers need
Also tends to reduce work stress
Is frequently applied by commercial painters in law firms and medical offices
 Green
Is typically associated with tranquility one needs amidst chaos
Minimizes eye strain for someone who stares to this particular painted office wall
Boosts a positive conduct in areas having surfaces of this color
Red
Generally creates a distinct emotional atmosphere
Can initiate excitement that can stimulate the employees to work
Is often avoided in most workplaces as it is associated with hostility
If you are interested to learn more about paint colors and are in the vicinity of Atlanta, what about planning a stopover to visit Southern Perfection Painting Inc? You can further discuss with the commercial painters of SPPI any job or service related to painting. These exterior and interior painters are fully trained with the dos and don'ts of any painting job – and a lot more.
Southern Perfection Painting Inc is one of the few local painting contractors that maintains perfection in all their services in spite of the affordable painting estimates they offer. You are assured of superior painting services for the protection of your commercial property, and to your satisfaction. This is what SPPI is known for – the guarantee of quality in workmanship for all residential and commercial painting jobs they undertake.