Opinions Matter
The choice of commercial paint colors by industrial painters is subjective. This is the reason why these painters are rarely part of the consulting team delegated by business owners. The truth is that their vast experience in their field is very valuable – and their opinions matter.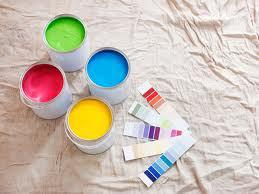 The painting business is not only confined to residential, commercial or industrial painting jobs. Foremost is the proper way of applying paints, that is, the appropriate painting techniques. This is followed by the commercial paint colors industrial exterior painters will be using. Their skills on painting techniques match their knowledge on paint colors. They, too, are already accustomed on what color stands out to what the business conveys, as follows:
BLUE is classified as a neutral commercial paint color that is globally associated to the loyalty of clients or customers
GREEN sets a calming atmosphere that endorses good health
ORANGE symbolizes a lively environment suited for people on-the-go
RED is a "shout out" for attention wherein people see what the business promotes
WHITE is typically related to the field in fashion and the medical industry
YELLOW represents joy and happiness, more so, a relaxed feeling as the business achieves stability
The list can still go on more commercial paint colors. Get in touch and be acquainted with the expert exterior painters of Southern Perfection Painting Inc. You will be amazed to know how broad the experiences of SPPI industrial painters are as they explain further about paints as well as industrial or commercial paint colors.
Being in the painting business for almost 3 decades, SPPI not only specializes in commercial painting, but in residential painting, too. Moreover, in spite of all the awards and recognition they have received; SPPI continues to maintain perfection in all their industrial painting jobs. Southern Perfection Painting Inc. guarantees that their industrial or commercial painters, even residential painters, will never sacrifice the quality of their painting techniques with commercial paint colors.