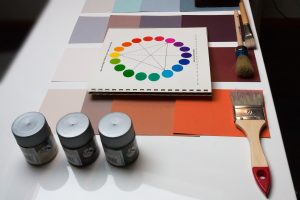 Coming up with ideas on what color scheme to go with can be difficult. This is where most homeowners talk with a professional contractor. This should come with the whole painting package.
Many homeowners get easily overwhelmed when it comes to picking out a color scheme. There are so many that are now categorized. Asking for the help of a professional painter can bring some ease.
Choose a color from the largest pattern. If you have patterns in the room pick a color from there. Nudes, whites, and beiges in the patterns are great for walls. Starting with the most formal area in the house, for example, the dining room, entryway or the living room is the best way to start. Take one color from the area, for example, a blue chair and bring it down to a darker blue as an accent for more private areas like a bedroom or office.
Decorate vertically from dark to light. To help make the space look better, choose dark colors for the floor and a medium color for walls. Choose colors that you personally look good in. Using a color wheel can help with this. Compare color side by side to get a better look of what you are wanting and what looks good together.
Each and every homeowner want a relaxing and happy place. When you choose your colors you should start with contrasts. A dark with a light. If you want to more energy in your color consider choosing something bright. If you want light colored walls, turn to the colors of your rugs and furnishings for what color you should add in.
Lighting in a very important part in what color you should choose. This should never be overlooked. Light reflects from color and deflects color also. There are many different lights out there and depending on what light you have depends on how much the color of the wall will change also.
There are many color schemes out there the following are just a few:
The Beach Scheme: refreshing, relaxing since the colors are basically what the seaside looks like

Harmonious Scheme: use two to three color side by side

Monochromatic scheme: this is widely preferred and very simple

Organic scheme: mainly earth tones

Sophisticated scheme: colors of copper, silver, and gold
Choosing the color scheme of your home takes commitment if you are not ready to commit to a color, choose other ways to add color in your home until you are ready.
SPPI
Average rating:
0 reviews