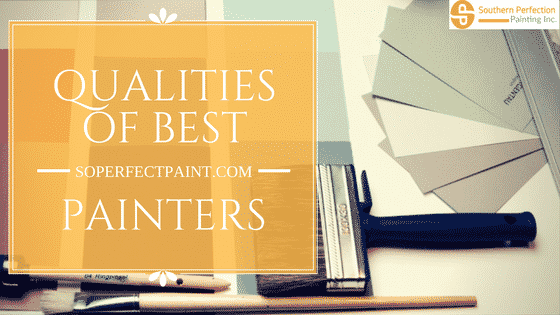 Qualities of Best Painters
Finding the best painters in Atlanta can be a very overwhelming task, especially when you are not quite sure what you are looking for in a painter. As with any contractor that you are hiring it is important to take a close look at a checklist of qualities before making your decision as to who you will hire. Here is a quick checklist of qualities that you should be looking for in the best painter.
Experience
Experience is really a crucial trait to have, especially in the painting industry. An experienced painter will know exactly what type of paint is needed for each individual task, which is important as every room, design scheme, and purpose of the room is different depending on the customer. Look for someone who has been in the industry for at least 2 years, though longer is preferred.
Their Products
When you are painting any room in your commercial or residential, you want to make sure that the paint lasts as long as possible before you need to hire a painter again. This means that you want to make sure that the products the painter uses are high-quality. Make sure that they are not skimping on the quality while charging you premium for the work.
Take a Look at Preparation Work
As you are discussing the work with the painter, be sure that they have a very thorough preparation plan for painting your home. This means applying coats of primer in addition to the paint, as well as anything else that may be required to get the perfect paint job.
Choose Local
It can be a great idea to hire a painter that is local. There are a few reasons to this. One, they have ties to the community and they want to ensure that they have a good reputation in the area. These are painters that have more to lose if they do not do a great job with their painting. Another reason is because they are familiar with the area and you do not have to worry about them constantly getting lost. Lastly, you want a local painter because if something is not to your liking they will be quicker about coming out to fix the problems with the paint job.
Reputation
You always want to be sure to do your research about any company before you choose one. Take a look at their online reputation and you should also ask around to friends and family that may have worked with a painter. They will be very quick to tell you if they had a particularly great or negative experience with a painter. A good painter will also come with references.
Always Get a Few Quotes
Ideally, you should get 3 or 4 quotes before deciding on a painter. Be sure that they know exactly what you want before you get a quote, otherwise there is the risk that this price may change. Never choose the lowest price just because it's the cheapest as you will get what you pay for.
If you are looking for a professional painting company for your commercial or residential location, contact SPPI today by visiting www.soperfectpaint.com. Schedule for your FREE Estimate, fill out the form on the right.