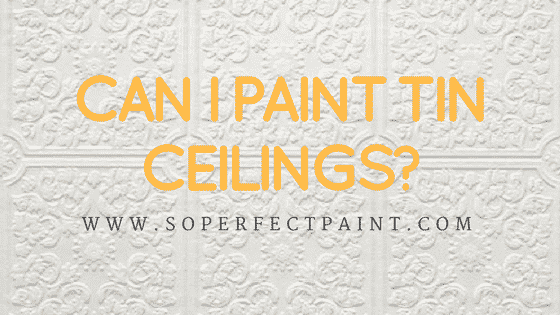 Tin Ceilings
Popularized around the late 19th century in America, tin ceilings have been a timeless style choice that has recently made a comeback in homes across the country. The problem is that maybe you want to freshen up the look of your tin ceilings or you bought a home and are not quite a fan of the look. Whatever the reason, you need to know whether or not you can paint tin ceilings and how to do this process. Yes, you can paint over these tin ceilings and this article will help you learn how to do this project.
The first thing that you should know is that this is a task that may not be as complicated as you think. Most tin ceilings have a coat of primer already on it before you even begin this process. You should also know that you need to stick to a light or neutral color if you are going to paint over tin ceilings. A lot of these tin roof designs make it so that shadows can be cast on other parts of the ceiling, which can create a dark look in the space.
The first thing that you need to do is to pick what paint you want. As previously mentioned, sticking to a light or neutral color is going to be the best option for this job. Before you begin painting, you will want to make sure that this surface is completely cleaned. Any dirt or grime left on the ceiling will make it difficult for the paint to stick to the surface. While cleaning, pay attention to any rust spots that may be on the surface. These will need to be sanded away as it can also interfere with how well the paint sticks to the surface as well as create an uneven surface for painting that can prevent it from looking great. Also, be sure to cover or remove any item in the room to avoid paint splatter from getting on them.
As a homeowner doing this project, you will want to be sure to choose a lambswool roller as this can get into the crevices of the ornate tin ceiling better. A professional will either use this or a sprayer to complete this job. You should be sure to choose a latex paint that is of high quality. If you want to make the ornate designs stand out, you can pick a color that is complementary and paint along the design with a smaller brush. After you have completed this and the paint as completely dried, you will need to apply a varnish to prevent any chipping in the paint.
Whether you are looking for a residential or a commercial paint contractor Grayson, SPPI is the company that you can count on. With over 3 decades of experience, we can handle any size job that you may need completed. We offer a wide array of services that you will certainly love, which you can find by visiting our website . If you are in need of these types of services, contact us today to see how we can best help you. For quick estimates, please fill out the form you see on the right, or click here.