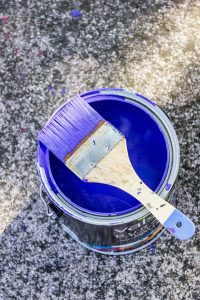 Painting your home offers various benefits ranging from the look to the value. The following tells you what the benefits are and how to make sure you achieve them.
Interior Painting Benefits:
Greatly increases the value of your home. If you plan to sell your home later or even if you don't this is an awesome way to increase the value of the home. Painting the interior walls, baseboards and trimmings also the exterior walls help too.

Painting helps to decrease allergies to dust and dirt. Houses with plastered walls keep the dust away.

Hides those permanent stains and marks that seem like nothing will work. Marks and stains can be very difficult to remove so it's just easier to paint over them sometimes.

Painting the walls will help from wear and tear. Also, protects the walls from water damage.

Changing the color of your home can help brighten the room creating a positive vibe of the home. Lighter colors for a small room makes them look bigger. Bright colors for a toy room make the room more vibrant. Cool and calm colors make for a cozy room.
Exterior Painting Benefits:
Create a better aesthetic value. Paint your home a new color. This can make other things look better also.

Exterior painting can also increase the value of your home just like new paint on the interior of your home.

Greater curb appeal. If you plan to sell later a fresh paint coat will help raise the value of the home.

Greater protection against nature. Rain, snow, bugs, fire and wind can have a great impact on your home, but apply new paint to the home can protect it from these and other elements.

Painting helps the prolong the lifespan of your siding.
Whenever you choose to paint your home, make sure you speak with a professional painter. They will make sure that it is not only done right but they can also give you suggestions to help better protect your home and show you the benefits of painting your home on the inside and the outside.