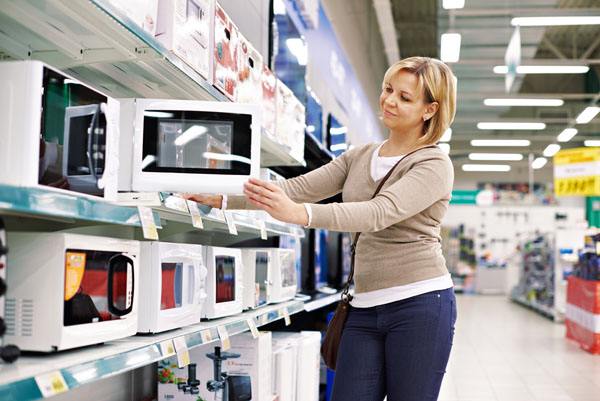 Spend Less on Appliances
When an appliance breaks, starts being more trouble than it's worth, or just gets too old, you need to find a new one. But household appliances can hit your budget hard if you aren't prepared: Take some time to search out deals and find the lowest price before you make the big decision. To help out, here are the top tips on buying appliances while still keeping some cash in your pocket!
1. Buy Locally
There are several good reasons to buy locally. First, you may not have to pay for shipping, or at least pay as much. Also, shopping locally will connect you with local dealers who will be more willing to lower the price a bit to match your budget, or help you find the most economical model. If there are any problems during the sale, it's easy for you to contact the seller for more information.
2. Shop During the Holidays 
The holidays see plentiful appliance deals as stores advertise all their deals. Labor Day and Black Friday in particular are popular for appliance deals. If possible delay your purchase until these holidays come around – but have a model or at least a brand in mind so you can act quickly and take advantage of sales before inventory runs out.
3. Look for Price Matching and Discounts 
Price matching occurs when a seller agrees to lower the price to match the price of the same model that you found elsewhere – in this case, research really can save you money. Make sure you know the rules of price matching before you start looking, they can vary from store to store. Also, look for any broad and obvious discounts, from online promotion codes to monthly discounts that appear on regular rotation.
4. Decline Features or Services You Won't Need
Appliances tend to come with a lot of baggage, by which we mean features and services that cost money but which you don't need. This includes modern smart connections to your Wi-Fi network, extra settings for food or clothing that you don't use, handling and set-up fees, and many other features. Don't spend more just because something looks or sounds cool…think about if you would really use it first.     http://www.shutterstock.com/pic-100524670/stock-photo-display-washing-machine-macro-photo-part-of-modern-home-washing-machine.html?src=t9ud_qih6FH05Qwivgd13w-1-19
5. Use Tax Credits 
Tax credits apply to a variety of eco-friendly appliances that save energy, especially larger, more expensive appliances like washers, dryers and refrigerators. Both state and federal programs often offer credits or rebates for buying particular models. Even your local power company may offer similar deals, so check on any available bonuses to picking modes with Energy Star ratings or other qualifications.
6. Fit Appliances to Your Home 
This is an important but often overlooked step to saving money. Fit appliances based on the space you have and the power that you need. Take out a tape measure and jot down height, width and depth before you go shopping. Then consider what the appliance will be handling (how many loads? how much space to heat? and so on) to find out what kind of model you need. This will save time and keep you from spending too much.
7. Wait Until New Models Come Out 
When new models are shipped, many stores work to clear out inventory…which means new deals. If you see brand new models announced or advertised, it's a very good time to take a look at older models and see if they match your budget…or if you can try for more aggressive price negotiations.
8. Make Money from Your Old Appliances 
There are many options to sell used appliances either online or through local classified ads. If you have a used but still functional appliance, make extra money to recover some of your expenses! Take a look at what similar used models are selling for first.
9. Sign Up for Newsletters and Customer Programs 
Emails and newsletters are a great way to see what new deals are coming up, so sign up for those in preparation. Also customer loyalty programs offer discounts, free shipping, and extra services which can come in very handy when saving money.
10. Think About the Long Term 
Sometimes the best way to save money on your initial costs is to amortize those savings out into the future. For example, if you buy an air conditioner that's more efficient than your old version and it saves you $20 per month, in a few years you will have recouped a significant portion of your expenses.
The tips above don't only apply to home appliances and furniture, but also to painting and decorating needs.  For any home renovation services, home or office painting, and other home fixing needs, call us or request for a project estimate below.
[su_row]
[su_column size="1″][su_button url="https://soperfectpaint.com/#quote" target="blank" background="#f69220″ size="8″ radius="5″ class="btm-more"]Free Estimate[/su_button][/su_column]
[/su_row]