The 3-Color Scheme
House painting 3 colors on the exterior surfaces is favorable to homeowners. It is done in style by exterior painters. The 3 house paint colors are what owners usually prefer. Each of the colors blends with the other 2 colors. Each color also matches to a component of the house structure.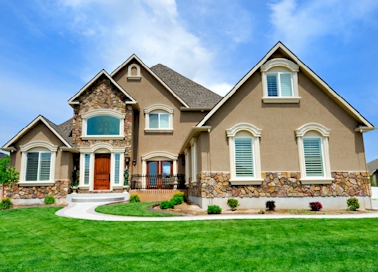 This is called the 3-color scheme in residential painting. House painting 3 colors gives emphasis on the exterior structure. The task is done well when the painting contractor involved in the project unceasingly reminds the painters on the following:
The paint color of lightest shade is for the body: The front and back exterior of the house comprise the body
The color in medium shade is for the trim: Door and window frames are considered the trims or vertical elements of the house structure
The darkest shade goes for the accent: The front door is typically set as the focal point of the house structure (with a specific purpose as the main entrance to the home)
For exclusive areas that have a certain theme in the neighborhood, the homeowners are assured on the reliability of the painters. These painters are skilled and creative in making certain adjustments on whatever house painting 3 colors is set for the theme. The painting estimates provided by the contractor do not make a difference whether the colors are preferred by the homeowners or the theme of the neighborhood.
From the aforementioned, house painting 3 colors on the exterior indeed make an impression to the home. If you need further details, let SPPI discuss these with you. SPPI can provide you mix-and-match options on house paint colors and skilled exterior painters.
For almost 3 decades, SPPI is known to be a painting contractor that delivers quality work in all their residential and commercial projects. SPPI also offers painting estimates that are reasonable. SPPI will surely make your home stand out with house painting 3 colors you choose on the exterior.