Create a professional, inviting office with these ideas.
There are many different ways to upgrade your office with paint. Inspiration can come in many forms. The professionals at Southern Perfection Painting, Inc. can also help you not only understand the types of exterior and interior paints for your painting job but how to effortlessly achieve that perfect look for your commercial building's exterior or interior.
SoPro Tip: You can find inspiration for painting projects almost anywhere. Check out our projects for further inspiration. But also sites like Pinterest, Instagram, and your local paint stores can get you pretty excited and motivated to paint.
Painting your office interior can give you an instantly refreshed look. Imagine a bold hue like cobalt, rich red, or warm, comforting brown for the fall. Or brighten up a room with a cheery soft yellow or gold. Don't forget your neutrals: a subtle gray, warm beige, or warm white always works if you're not ready for bolder hues. Get color chips from Sherwin-Williams delivered straight to your home for free!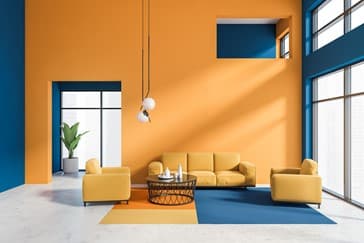 A professional commercial painter can do this job right. The right paint contractor will prepare your walls for painting, have drop cloths ready, apply a high-quality painter's tape to help minimize mistakes. At Southern Perfection Painting, Inc., we will make sure to prime your walls and ceilings, followed by 1-2 applications of high-quality paint like Sherwin Williams. We will also clean up and wrap up any waste. Get a quote for your interior painting project now.
If you're not quite ready to paint your office's entire interior, consider updating specific areas, such as your entryway, hallway, or an accent wall. You can create an unforgettable entrance with a bright hue like a bold navy, fun turquoise, or dare we say an intense red!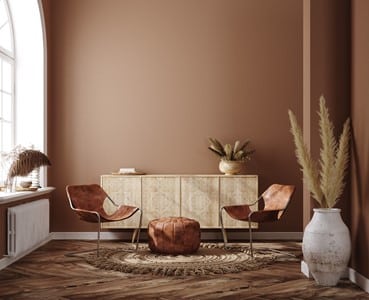 Painting an accent wall is a simple, low-risk way to update a room. After all, it's only one wall! But with a coordinated color combination (and a paint contractor can help you here), you can create a balanced, welcoming look that says, "Come in! We're open for business."
SoPro Tip: Another good source is our Tools Page. You can see paint samples and also check out Sherwin Williams ColorSnap Paint Visualizer App.
Areas such as hallways, foyers, entryways, landings, and stairwells are called transitional spaces – they simply transition your customers from one room to another. These areas are great places to experiment with color. They can also be tricky to paint. Why don't you have the painting contractors at Southern Perfection Painting help you create your vision? Contact them today to set up a free consultation.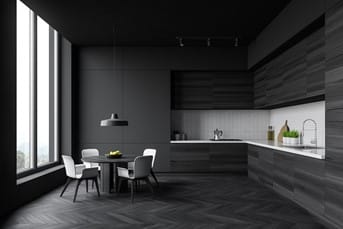 SoPro Tip: Before beginning any painting project, browse free color chips and purchase paint samples so that you can experience different color combinations and observe the paint colors in natural light – before you commit to it.
Southern Perfection Painting can quickly and expertly paint your interiors and exteriors.
We have residential and commercial painters ready to provide you with the expertise required to bring your vision to life. Using our process, our experienced painters will evaluate your commercial painting project, quickly and thoroughly. We will then determine the best way to paint your residence and share with you our recommendations. Learn more about our free estimate and 100% guarantee now.
Our free estimate and evaluation include:
Quick initial phone complimentary consultation.
Complimentary virtual visit by our customer advocate team to evaluate the project.
Delivery of a recommended plan that will take you from concept to completion.
Dedicated and experienced team of interior and exterior painters.
Reach out to us for a free estimate and consultation to help you choose the best option.
Trust your building to Southern Perfection Painting, Inc., and let us take the stress of residential and commercial painting out of your hands. Our estimates are free, and a call takes minutes. Get an estimate.